10 Sep 2018
Ecobee4 vs Nest, Which Is A Better Thermostat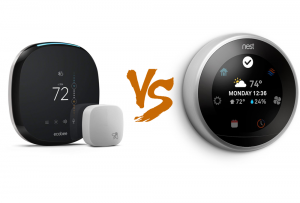 Smart buyers always compare the best products available in the market before selecting the one that meets their demands perfectly. Recently, the trend of installing smart thermostat has increased. It helps to save energy and reduce the energy costs. No doubt there are several products available in the market that will make selection of the best difficult. ecobee4 and Nest are the two famous WiFi thermostats that have grabbed the attention of audience. However, you can only have once. Here we have the ecobee4 vs Nest comparison to help you select the best home thermostat.
Ecobee4 vs Nest, At a Glance
Specifications
Ecobee4
Nest
Product Image
Homekit Support?
Alexa Integration?
Complete Replacement for Echo
Remote Sensor Support?
At an additional cost of $79
Geofencing
Energy Reports
Stated Energy Savings
Heating: 23%
Cooling: 23%
Heating: 10 to 12 %
Cooling: 15%
Price
$$$
$$$
Buy Now on Amazon
Check Price & Availability
Check Price & Availability
Energy saving benefits: Nest
You might be thinking that when it comes to saving energy ecobee is the best option. However, if you will pay attention to the features you will, it will get easier for you to understand that why we have picked Nest as a better option. The reason is that Nest is developed with a smart technology that will allow you to know whether your house's thermostat is on the energy saving mode or not.
There is small sign of leaf that you will get whether you are adjusting the heating or cooling temperature. It will give you the peace of mind that you are saving energy and this is the feature that makes Nest the best smart thermostat. No doubt ecobee can help you save energy as well but you will not get such cool features. You will also get a reporting system with Nest to know more about your energy consumption.
Thermostat Adjustments: ecobee4
When it comes to thermostat adjustments without a doubt ecobee is the best homekit thermostat available in the market. Nest comes with a dial that you can use to adjust temperature. That is why for some people it is a little difficult to use. However, with the ecobee you will not have to deal with such issues because it is accustomed with the touchscreen.
We all know that everyone prefers using touchscreen because we have been on our smartphones for a long time. That is why using ecobee is a better option because using the touch screen you can quickly adjust the temperature according to your requirements. With ecobee you can have sensors for different rooms as well to assure that you can know the state.
Looks: Nest
If you are planning to buy the smart home thermostat based on the looks it is better that you select Nest. It has a stylish design that will make it look perfect on the wall. It is the size of a small disk and you can attach it with the wall anywhere you like. It has a minimalistic design which means that most of the people will not be able to notice that you have a smart thermostat on your wall. It is round in shape.
On the other hand, ecobee is a little bigger that makes it hard to adjust the product on the wall. It has a square shape which means that everyone will notice the product when you will keep it anywhere you want. It means that if you are planning to consider the style of the product it is better that you invest in Nest.
Compatibility: Both
Both Nest and ecobee are WiFi thermostat. When it comes to compatibility both products are extraordinary. You will not have to deal with any issues while using the thermostat. They are compatible with any the Android and iOS devices. It means that you will not have to worry about the devices. You can easily control it from any device and from any part of the house that you want. The biggest attraction of both systems is that they are compatible with the other smart home systems as well. It means that you will not need an extra device to connect the system. All you have to do is assure that your thermostat and smart home systems are connected with the WiFi and you will not have to deal with any issues. you can simple use your smart home system to connect your devices.
Voice assistance connectivity: ecobee4
One of the most important features that you have to consider while selecting the smart thermostat is the voice assistance. Nest and ecobee both have been developed with the Alexa integration. It means that you can easily control the device with the command of your voice. However, coming towards the quality of the voice assistance you will get better services from ecobee. The reason is that even if you will echo the system will hear your command and make the changes that you have wanted. It means that you will not have to speak loudly and make it look awkward in the house.
Cost: Both
Last but not the least, the most important thing that needs your attention is the cost of the product. It has been found that Both products are available at the cost around $249. It means that you will not have to worry about the budget while buying the product. Your decision will not depend on the cost of the product. It will give you the freedom to pay more attention to the features while selecting the products
Bottom line
No doubt that Nest and ecobee4 both have their own special features, pros and cons. It is important that you invest in the product you are most satisfied with and the one that can meet your budget. We hope that our ecobee4 vs Nest comparison has made it easier for you to select the best product.